how about we don't...
Oh boy...here we go.
Let Me In
isn't a bad film. Say for example, I lived in a cave and knew nothing about the book or original Swedish film, both titled
Let The Right One In
, and saw
Let Me In
on a whim. I might exit the theater thinking, "what an interesting little film I just saw." Part thriller, part tragedy, part love story, filled with great performances by two wonderful child actors, by all accounts
Let Me In
is a good movie. Unfortunately, I lack the blissful ignorance needed to formulate such an opinion. I saw the original film
Let The Right One In
last summer and my mind was officially blown by it's sheer awesomeness. So while Matt Reeves' American remake is a competent/ok film it's literally blown out of the water by Tomas Alfredson's original.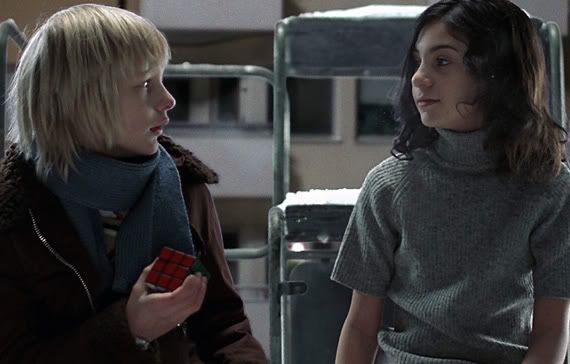 Alfredson's film revolved around Oskar, a 12 year old social misfit who could only find happiness & understanding by befriending a 12 (going on 200+) year old vampire "thing" named Eli.
.
Reeves' movie centers around Owen, a 12 year old twink who falls for a 12 (going on 200+) year old vampire girl named Abby.
After leaving the theater, with
Let Me In
still fresh on the brain, I began discussing the differences between the two films while eating
King Taco
with my girlfriend. I literally played both films side by side in my head as I ate and slowly but surely my mild disappointment with Reeves' film turned into an all out rage. My girlfriend thought I was nuts because she saw both movies and claimed to enjoy them almost equally, with some elements of
Let Me In
eclipsing the original she claimed. Turns out I'm not insane and this
article
illustrates nearly all the points I laid out at King Taco. The reviewer, Brit Mandelo says:
The word I would use to describe Let the Right One In is "quiet," or perhaps "poignant." The word I would use to describe Let Me In is "clumsy," maybe even (and this is cheating) "trying too hard."
Never truer words spoken (or typed). Alfredson's film is slower, giving bits of dialogue when needed. The camera doesn't move too much either but with
Let The Right One In
's amazing cinematography you won't even notice. It's literally a beautiful film to watch. You could pause any shot in the movie and frame the image on your wall and I'm not even joking. Reeves' movie is faster paced, almost to the point of feeling rushed, filled with more dialogue, camera tricks/CGI and pop culture references (80's music). The best thing about
Let Me In
in my opinion (aside from the gratuitous tit shot in the beginning) is Reeves' filming of the car wreck sequence. That's some dazzling directing going on right there. And that's what pisses me off the MOST about this movie. The best thing Reeves' adds to his version is a still a big cop-out compared to Alfredson's work. In
Let The Right One In
, Eli's henchmen gets stuck in a pretty hairy situation and decides there's only one way out of it, resulting in a gruesome yet extremely touching scene. Reeves' take on this results in a cool to watch car wreck sequence that lacks the emotional power of Alfredson's version.
There are so many other things that bother me about
Let Me In
, like the total glossing over of the original's implicit sexual undertones and replacement of Alfredson's social commentary about the horrors of modern society with Reeves' bland battle between "Good & Evil," dribble. I'm starting to get all worked up again. Once more, be sure to visit
Mandelo's article
for a complete breakdown of why Alfredson's film > Reeves'. In conclusion,
Let Me In
is not a horrible movie...it will just be forever overshadowed by it's far superior Swedish cousin,
Let The Right One In
. Reeves' did make the genius decision casting Elias Koteas in his movie though. So if you have to, go see
Let Me In
and show CASEY JONES FROM NINJA TURTLES (excited?!) some love.
let HIM in