I did not see this one coming. I really didn't. Some of you bloggers might remember how much I loved Nicolas Winding Refn's film
Bronson
, so naturally I had high hopes for his latest movie
Drive
. Well,
Drive
shattered all expectations and easily stands as my favorite movie of the year. Unless this coming holiday season brings it's A game, I'm almost certain
Drive
will end up on the top of my list.
First,
Drive
is not a car chase flick à la
The Fast and the Furious.
If you come into the theater expecting a macho muscle car ADD fest you will be horribly disappointed with this film. A few people walked out of the theater I attended and I wondered why? Then I went online and saw
Drive's
trailer and said, "Ohhhh." No matter how gnarly and testosterone filled the trailer might seem (guns drawn, cars flipping over, etc) don't fall for it.
Drive
is an entirely different beast altogether.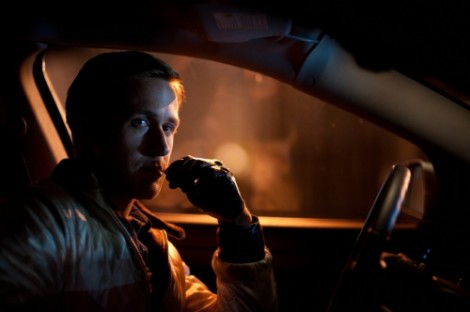 Try to imagine a Brothers Grim fairytale infused with Coen brothers Film Noir. Imagine what would happen if Clint Eastwood's "Man with no name" was transported to the grimy Downtown Los Angeles of James Cameron's
Terminator
. How about Michael Mann telling an existential love story, while sprinkling obscene bits of grindhouse violence for shits and giggles. If any of those descriptions tickled your fancy,
Drive
should be right up your alley.
Ryan Gosling is the film's protagonist. A Hollywood stunt driver/mechanic by day who moonlights as a wheel man for criminals at night. Gosling has the prototypical lone wolf shtick down to a science until he encounters Irene, a sorrowful damsel in distress played by Carey Mulligan. Our stoic driver swoops in on his horse/Chevy and must protect Irene's family from the scum and villainy that inhabit Refn's seedy Los Angeles.
Love in an elevator
Everything about this film is amazing. The cast is stellar. The cinematography is breathtaking. Hell, even the sound is awesome. I shit you not, listening to the wind blowing during the hotel scene or Gosling's leather gloves tighten will leave you jostled. Of course you can't talk about
Drive
and not mention the soundtrack. Refn's choice of 80's style synth-pop initially grated my ears after the opening scene but guess what? By the time the credits rolled I was humming along like an idiot and loving every second of it. Overall,
Drive
is a beautifully twisted film. It's sleek and hyper stylized without being soulless. On the contrary, Refn's film meticulously wrenches emotion from its audience. I could literally go on for days about how great this movie is. My advice is, go see
Drive
for yourself.
*NOTE*
Here's the part where I usually insert the film in question's trailer. Well, Drive's trailer has, in my humble opinion, way to many goddamn spoilers so instead I've got my favorite song off the film's soundtrack. Listen to this song with your eyes closed, imaging you're behind the wheel of a 1973 Chevy Malibu and you'll get the gist of it.
ok...here is the actual trailer for those who need more convincing. Be warned, SPOILER CITY.