I don't watch American Idol or any of those shows. I know Paula Abdul is famous for being an emotional nutcase on reality programs these days but when I was a young lad I remember hearing her songs on the radio/tape player while sitting in my mom's car, or watching her on MTV at my cousin's house. I don't think I particularly cared for her tunes but I was totally stoked on the "Opposites Attract" video with the cartoon cat. That was awesome! Either way I kind of forgot about Paula Abdul's music for oh, about 20+ years...
Then I heard J Cole's song "Work Out" while closing one night. That's how I learn about all the stuff kids like these days, from the shitty boombox at work. Anyways, the dude
straight up copies the hook from Paula Abdul's hit
, um, "Straight Up."
It was THEN that the nostalgia wave hit me like a ton of bricks. All those songs I forgot about for two decades suddenly became lost friends I wanted, nay, needed to reacquaint myself with. I've been hitting the youtube pretty hard in search of lost Abdul classics.
EPIC violin solo @ 2:57 mark! How awesome is it that nearly all the 1988 outfits in this video can be purchased at American Apparel stores in 2012?
Fucking KEANU REEVES REPRESENT! Johnny Utah doing his best James Dean in this clip. How awesome is that? Also makes me want to go back to the Griffith Park Observatory. It's such a rad place. Amazing views and you actually learn stuff.
finally, the greatest music video of all time (well, I embellish...just a tad):
post-
Roger Rabbit
, pre-
Space Jam
human cartoon awesomeness. I think I watched this video 2.7 million times as a kid. I'm doing a half assed version of their dance routine in my chair as I type this.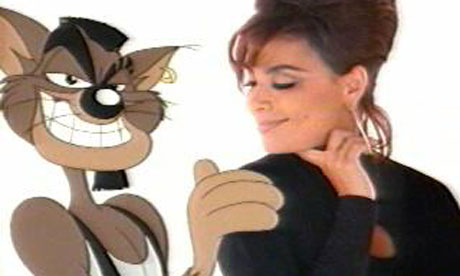 MFW listening to 80's era Paula Abdul
So there it is. Paula Abdul, you have special place in my vile, nostalgia filled heart.