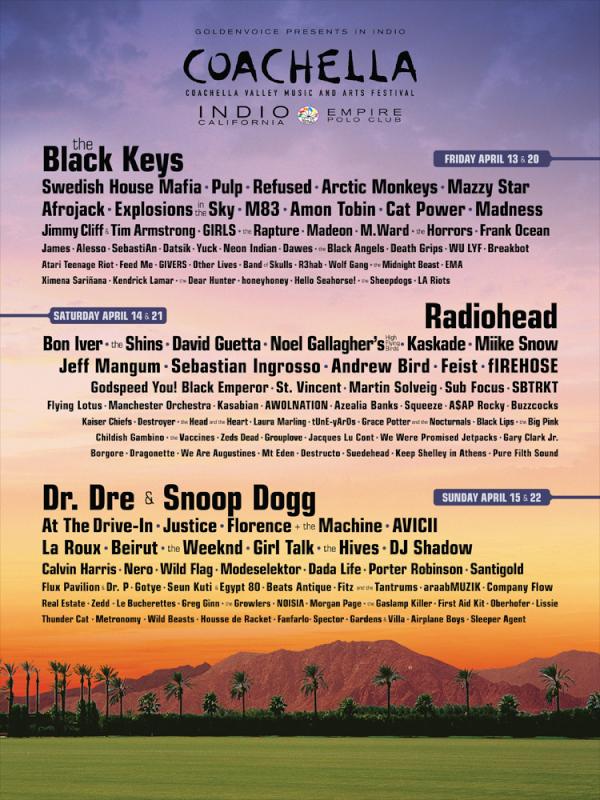 bastards!
Around this time last year, I went on a
massive rant about how much I hate large music festivals/rip offs like Coachella
. As most of you might have noticed by now, I love seeing live music but I'm kind of spoiled and prefer smaller shows that won't test my patience or drain my wallet.
I went to Coachella in 2007 to see Rage Against The Machine's reunion. This was more than a concert, it was a childhood dream come true, an event I never thought would take place in a million years. Well it seems that hell froze over yesterday because two seminal bands from my youth announced their respective reunions and as luck would have it, they're both scheduled to play at Coachella 2012.
Refused & At The Drive-In: reunited and it feels soooo good.
Both Refused and At The Drive-In, two highly influential post-hardcore bands who've been dead and gone for over a decade are back!
The news of ATDI's reunion broke first, causing half of my facebook news feed to erupt with OMG status updates. That makes sense though, since At The Drive-In was fairly well known before they imploded and their ties to The Mars Volta has kept their memory alive all these years.
As I was logging off before heading to work last night, that's when the Refused bombshell broke. Holy FUCK I seriously started shaking. I mean, the band's unofficial slogan since even before they self destructed was, "Refused are fucking dead..." but not anymore!
So I'm in a pickle. I basically NEED to see these two bands, but I really doubt they're going to play any special LA shows just for me. ATDI might do some more touring together, but Refused...I highly doubt that. Of course tickets are close to $300! As much as I rejoice over the news of these reunions, I really hate Goldenvoice/Coachella and everyone else who is holding these acts hostage for such a kings ransom.
Still, I wouldn't mind seeing Radiohead, Artic Monkeys, Madness, Explosions in the sky, Godspeed You! Black Emperor, The Shins, The Hives, Jeff Mangum (from Neutral Milk Hotel), Le Butcherettes and you know, Dr. Dre & Snoop Dogg.
It looks like I better start saving up my pennies.
TLDR:
PIGS FLEW THROUGH THE GLORIOUS SKY. Refused + At The Drive-In reunions = I'm going to Coachella 2012.