Great film, but draining. Like someone kicked the wind out of you, draining.
Shame
is director Steve Mcqueen's harrowing look at the downward spiral of addiction. The brief highs, the near infinite lows, it's all here. Only this film isn't about crack or heroin, it's about sex. Michael Fassbender delivers the most powerful performance I've seen all year (of 2011 folks) with his portrayal of Brandon Sullivan, the NYC sex addict whose compulsion engulfs his entire life, contaminating every aspect of his being with shame and utter depravity.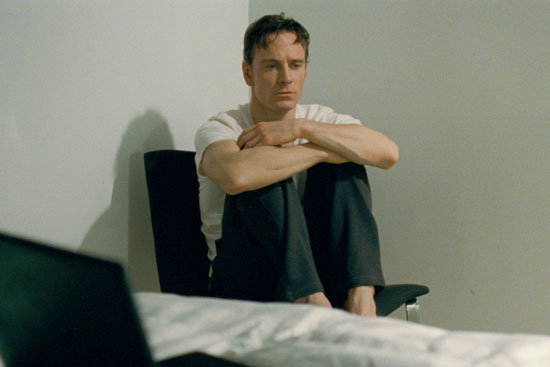 Magneto exposed
Fassbender already made waves this year with his awesome turn as Magneto in
X-Men: First Class
but nothing will prepare you for his fearless performance in
Shame
. Dude bares his soul on screen (and then some), exposing the pitiful, tortured existence of his character Brandon. Oh yeah, and he's naked a lot. Like the first thing you see is, well, his thing. Brandon is a well to do business type living the bachelor life in New York City. He's young, handsome, has money and is totally miserable. His life revolves around sex/orgasms. He spends his free time with hookers, internet porn, live web-cams, seducing single and or married women at bars (or anywhere really), and if all else fails, masturbating in the men's room at work.
Brandon's demented lifestyle/routine suddenly comes to a screeching halt when his damaged sister reappears in his life. Carey Mulligan plays his sister Sissy with such sadness and fragility,something she hinted at in her performance in
Drive
but fully realizes here, she's confirmed herself as one of the best up and coming actresses around. In fact her rendition of "New York, New York" in the bar/dinner scene is one of the most moving moments of the entire film (and is hands down, the saddest version of the song ever recorded).
"I want to be a part of it..."
Rated NC-17,
Shame
is definitely not a film for everyone. Despite it's full frontal nudity and graphic sexual content
Shame
is seriously the least sexy film I've ever seen. This isn't Tony Montana doing mountains of blow in
Scarface
. This is the crack fiend from
Menace To Society
offering cheeseburgers and blowjobs to feed their habit. Director Steve Mcqueen's film is dark, brazen and powerful. During Brandon's threesome with the Asian and blonde hookers, his choice of odd camera angles and classical music transformed the group's ménage à trois into a tortured ballet sequence. A dry, mechanical routine necessary to make poor Brandon feel alive for a few seconds. Again, I think this truly is a great film, although like
Requiem For a Dream
,something I may not want to watch again for a while. If that's not a compliment, I don't know what is.