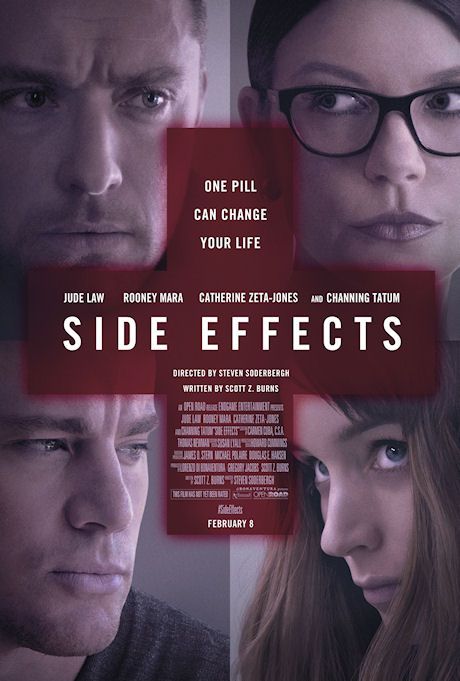 Are you looking for a suspenseful thriller that doesn't insult your intelligence? Do you like films with major twists and plot turns that throw you for a loop...but have grown tired of the "dream within a dream" tripe we've been bombarded with in recent years. If this sounds like you dear reader, then
Side Effects
might be up your alley.
Director Steven Soderbergh's latest (and possibly final) film is a crafty little movie. A who dun it caper disguised and marketed as something else entirely or as Tyler Durden said, "...a predator posing as a house pet." I can't discuss much of the plot because, well that would spoil all the fun now wouldn't it. Let's just say the film is part crime procedural, part cat and mouse detective fare, mixed with biting sociopolitical commentaries on corporate greed and the reach of Wall Street and the Pharmaceutical Industry here in the USA. It's like Hitchcock directed an episode of
Law & Order: SVU
, with a story ripped from an MSNBC editorial.
I feel like I'm taking CRAZY PILLS
Since I can't talk much about the film's plot, let's talk about the acting then shall we?
Side Effects
has one hell of cast. Rooney Mara is the absolute perfect blend of cute and crazy while Jude Law is equally adept at playing smug douche and courageous do gooder at the same time. These two really carry the film, with Catherine Zeta-Jones coming in as, well, can't get into that...sorry. She's good though. Tatum, well he does his thing. It's safe to say he's the weakest link here but his character is supposed to be underdeveloped so, I guess he's not so bad when you put it in context. Again the film is really all about Jude Law and Rooney Mara's characters. Their relationship and interactions with each other are the key to everything. There's no smoke and mirror, CGI driven tomfoolery here folks. Soderbergh's film is purposely misleading and deceptive but it's all there for you to figure out. A good ol' fashioned thriller about the horrors of modern times. Gotta love it.