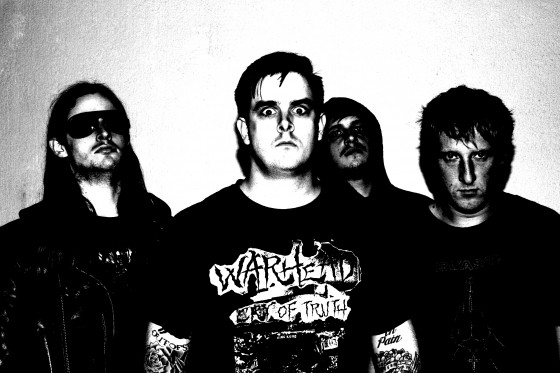 A friend asked me to describe Nails' sound to him...I told him it was like listening to steroids. That rush of testosterone filled energy that convinces you that you'll fight the world in bare-knuckle combat and fucking win. That's what this whole extreme music (metal/hardcore/punk/noise) nonsense is supposed to be about. The wild union of determination and raw power. Nails embodies that spirit to a T.
This show started early and because I suck at life and had to work Saturday afternoon, I missed pretty much all the opening bands. Bummer. I did manage to catch the last half of
Power Trip'
s set. These Texan thrashers stand apart from the horde of copy cat "Thrash Revival" clones with the frenzied urgency in their performance. They didn't come onstage to share their love of high tops and denim jeans, they came to bang some fucking heads, which is exactly what they did.
Nails
didn't come to bring the noise however, they came to obliterate. Their set was so loud my ear plugs tried to abort themselves midway through their performance, no joke. Todd Jones and co. played a good chunk of material off their
new album, Abandon All Life
(best of the year contender? Shit yes). If you haven't heard their new record then do yourself a favor, the next time you have a bad day at work or an argument with that pesky significant other, click that link provided above. You'll thank me for it. Their set was criminally short, but rock solid. Some of their new material is more spazzy (re: blast beats) and less mosh friendly than the jams off
Unsilent Death
, but kids down in front still lost their friggin minds. All I saw were a stream of dark figures bouncing off each other/flying through the air all night.
Highlights of the night included:
-Todd Jones dedicating the song "Tyrant" to himself.
-the eerie quiet in the room as Jones lambasted internet "shit talkers" before "Suffering Soul."
-the shaking floor boards (aka the Nails effect).
-newly added 2nd guitarist Saba's nod to Slayer during the ending of "Unsilent Death."
Nails is seriously a force to be reckoned with in the underground metal/hardcore world. I'm going to be that old man telling campfire stories to youngins about seeing Nails in concert, mark my words. They're
like the Achilles of this shit
. Unfortunately for ya'll, the band is set to
remain a part time passion project for the foreseeable future
. Aside from short regional runs/festivals, extensive international and North American touring is pretty much out of the question. So move to California then. Get your Nails on.