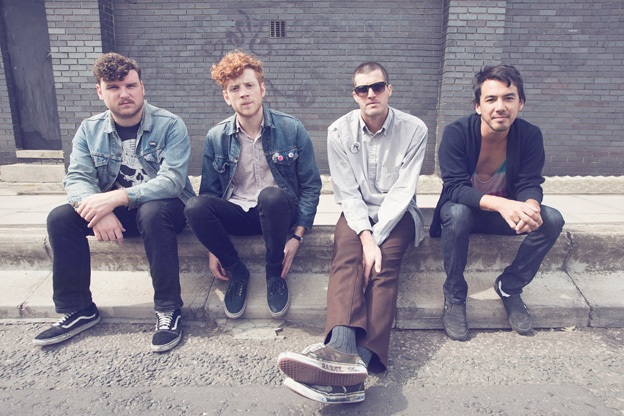 FIDLAR- an acronym for "Fuck it Dog Life's a Risk," also...a sweet ass punk rock band from Southern California. They released their self-titled debut album earlier this year and just embarked on a headlining tour across the country, playing an amazing homecoming gig at The Observatory in Santa Ana. Fidlar earned a wild reputation playing raucous house parties and dive venues throughout Southern California, so to sell out a larger established venue like The Observatory on their first headlining run is kind of a big deal.
The Orwells
and
Meat Market
served as the main support acts for the evening. Their blend of sun drenched garage rock was popular with the boisterous crowd (mainly teens and 20somethings) who were dead set on dancing, jumping and crowd surfing all night, come hell or high water. I couldn't really get into their sets all that much however. Meat Market had some good songs hidden under the jumbled mess that was their live performance, and The Orwells...well, they're really young (fresh outta high school) and had lots of energy but they were basically the worst Strokes cover band I could ever imagine. These two acts blended into one large repetitive blur and were simply outclassed by the band that preceded them, a punk rock power duo of identical twin fashion models called, The Garden. Yes, you read that correctly.
The Garden
consist of brothers Wyatt and Fletcher Shears. They play a high octane brand of spazzy punk rock with elements of 80's goth thrown in for maximum mind fuckery. When they aren't
gallivanting around the fashion world
, they're shredding faces off onstage. Never heard of these guys before this show but I was definitely blown away by their performance. Check em out:
and then...there was Fidlar.
Less than a year ago I figured they were just some random local band opening for The Hives. I was wrong. This band is blowing up big and I'm glad I caught on the Fidlar train when I did. Their surf/skate punk sound is raw and earnest, but with insanely contagious
pop hooks and delivered with heavy metal like precision ala their former tour mates The Hives.
The band ripped through tracks off their new album along with songs from various EPs and splits with manic energy but maintained a humbling sense of gratitude throughout. They could have literally played the phone book and the kids in the crowd would have went ballistic regardless (case in point: The Orwells) but Fidlar went onstage with something to prove.
They earned their new found headliner status and were not taking it for granted. "Stoked and Broke" along "West Coast" and the set ending shenanigans of "Cocaine" were easily my personal highlights of the night. Oh, and those
Descendents
and
Nick Cave
covers were fucking awesome. Don't sleep on Fidlar folks. When they take over the world in a few years, you'll totally regret it.
BONUS FIDLAR OVERDOSE: