This year the good folks at Scion brought the ever elusive metal fest experience back to Southern California with their 3rd annual Scion Rock Fest. It's been a few years since the last Los Angeles Murderfest or Gathering of the Bestial Legion, leaving us West Coast metal fiends in a lurch. Luckily for us on March 5, 2011 more than 20+ bands ranging the gamut of extreme music (death metal, grindcore, black metal, thrash, hardcore) polluted the mean streets of Pomona, California at this year's Scion Rock Fest....and it was all free!
I'm going to break the many facets of the fest down for ya'll as follows:
-the setup
-the venues
-the bands
THE SETUP
an entire city block was quartered off that housed three of the fest's four stages. The Glass House and both music tents were all within a hop/skip/jump distance of each other inside the "Scion compound." The all important merchandise tent for a majority of the bands, as well as the Grill Em' All burger trucks and the Scion mobile handing out free shit (Black Metal socks!) were all conveniently located within said compound. The Fox Theater, home to the larger bands on the lineup was just down the street. The festival grounds was also next to a giant Chase Bank with ATMs, numerous restaurants, bars and empty lots with free parking.
THE VENUES
I've never been a huge fan of the Glass House, the Fox Theater or attending shows in Pomona in general but I really can't complain this time around. Sure, waiting in line when the bigger venues reached capacity kind of sucked but then again, I didn't pay for any of this so who am I to bitch? Luckily most the bands I wanted to catch were all playing in the smaller tents anyways and there was never a problem getting in there. The sound/atmosphere in the tents was impressive. I was expecting some rickety old set up for the grind and hardcore bands in these outside tents but no, Scion hooked these up quite nicely. The sound at the Glass House was slightly off like always, but they sell pizza inside so it kind of balanced out. I can't really comment about the Fox because I spent the least amount of time there but its nice to see their security still enforce the venues Gestapo ass policies (no gum, chapstick, makeup, pens, etc.).
THE BANDS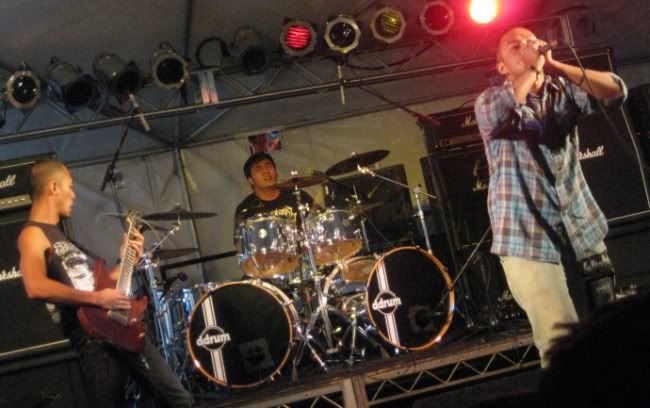 Wormrot
kicked things off with bang. Still riding high after their triumphant show at The Blvd. (that I missed =/ ) the night before, Singapore's favorite grinders hit the ground running and had their oh so crusty fan base inside tent #1 as well as members from Primate, Fuck the Facts and Municipal Waste watching from the side of the stage eating out of their hands.
I've been waiting to see
Fuck The Facts
since I fell in love with their
Stigmata High Five
album back in 2006. Finally my long wait had ended. They took the stage shortly after Wormrot finished and opened with "The Sound of Your Smashed Head" and all was right with the world. Mel stormed around the stage looking like a possessed canine complete with foaming mouth and all. Erie, pummeling, technical grindcore at it's finest.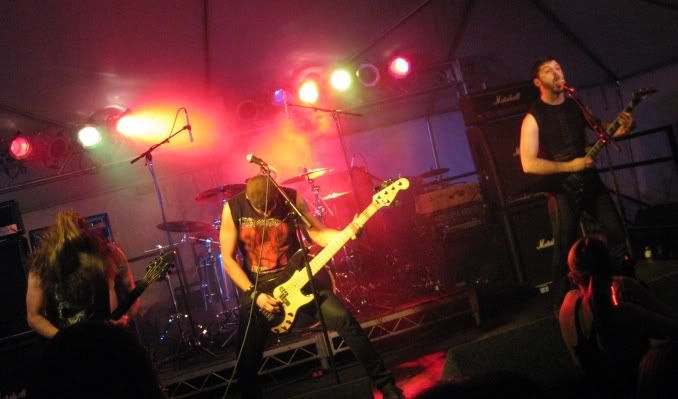 I ran over to tent #2 and caught a song from
Woe
. I really enjoyed last year's
Quietly, Undramatically
and wished I could have stayed for their entire set but alas, conflicting schedules. The band had heads banging in spades by the time I strolled in. Sadly their thrashy black metal assault was too powerful and completely overwhelmed the speakers of the video camera. Next time fellas.
Now it was back over to tent #1 for
Primate
, the new hardcore/grind band featuring Kevin Sharp from Brutal Truth and Mastodon's Bill Kelliher. Not being familiar with any of their material, I didn't know what to expect upon entering the tent. Luckily, Kevin Sharp's barefooted howls and the band's high octane punk & roll sound proved to be an awesome mix. The highlight was seeing Bill jamming onstage and not stuck in a proggy coma like he's been on the last few Mastodon tours.
Waiting inline for the Glass House to see
Atheist
allowed me the luxury of hearing the end of Primate's set and to eat some of my buddy's french fries from the Grill Em' All truck. By the time I got inside I had missed a good chunk of their set but hey, some Atheist is better than no Atheist.
The vibe inside the Glass House was different than that of the tents outside, I was in long hair country for sure. I found a viewing spot near the edge of the pit and caught the last few songs from the Florida shred wizards. Ironic that the sound for these technical death metal legends was muddy yet all the grindcore upstart acts playing outside sounded nice and crisp.
Kudos to the dude who kept yelling "Kid Rock!" and "Rock of Love!" at Kelly Shaefer every time he started talking in between songs.
Immolation
was next. Yes, Atheist and Immolation played back to back. Thank you Scion. I secured a spot right in front of the stage after scarfing down some pizza and waited for my 2nd favorite New York death metallers to come out. Holy balls this band is amazing. I heard people complaining later about their crappy sound but from my position in the front, Immolation sounded like Godzilla on steroids, devastating all in their path. The term crushing doesn't do this band justice. Imagine a big rig truck carrying a load of hallucinogenics jackknifing in the middle of a crowded highway. That's Immolation in a nutshell. Best of all, I got some amazing quality videos of "Swarm of Terror" and "Father You're Not a Father." Immolaiton was all sorts of win.
Sadly, witnessing Atheist and Immolation at the Glass House meant missing Nails' hardcore/grind assault in tent #1 and Agalloch's, awesome band that almost never tours/plays live once in a blue moon performance at the Fox Theater =/. Sometimes you eat the bear and sometimes...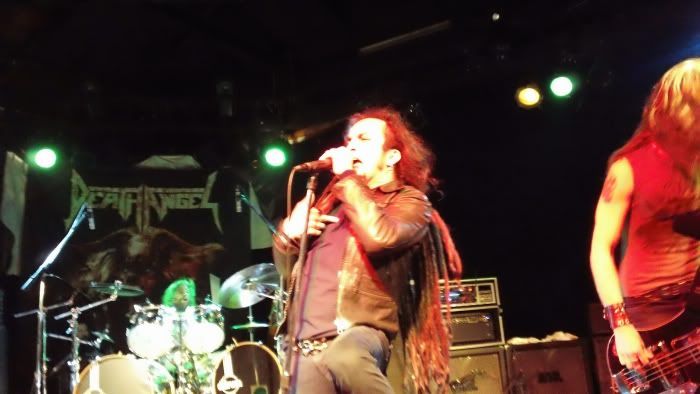 My buddy wanted to catch some of
Death Angel
(who I kept referring to as Dark Angel all day...mixing up my D-Angels here) so we stayed inside the Glass House and caught their first few songs. The band has energy to spare onstage and worked the crowd into a frenzy. I'm guessing all the death metal hordes headed over to the Fox Theater to catch Obituary and Morbid Anegl just as we were about to do while all the teenage thrashers descended upon the Glass House for the white high-top wet dream of Death Angel and Municipal Waste.
Before running over to the Fox I made a pit stop at good ol' tent #1 and caught a song from
Bastard Noise
. I loved their split with The Endless Blockade last year and was eager to see how this band transferred their "sound" live. They were exactly as I imagined. Chaotically enthralling...probably the most aptly named band ever. Buzzing, mind altering noise, abrasive vocal shrieks/growls, blast beats and some of the gnarliest bass playing I've ever seen. I really wished I had ditched Death Angel and caught more of Bastard Noise but there was no time to dwell, Obituary was rocking the Fox Theater and time was of the essence!
Sadly, several hundred other people had the same idea as us and we got stuck outside the Fox waiting for the over capacity venue to empty out a bit before security would let anymore in. That Fuck The Facts hoodie I bought sure came in handy during that twenty minute wait in the frosty (lol @ Southern California winters I know) air but we eventually made it inside for
Obituary
's last song, the mighty "Slowly We Rot."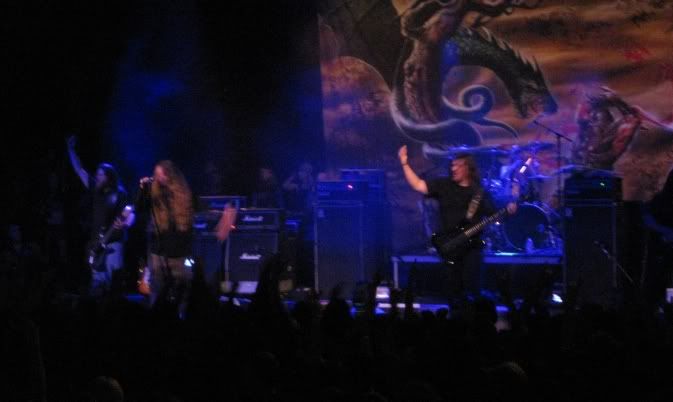 After the epic campaign trying to get inside the Fox Theater for Obituary, I realized there was no way we could leave to catch Integrity or Municipal Waste, who were headlining the other stages, if we hoped to see any of Morbid. We staked out a spot right above the Fox's large floor area and waited as people jumped the guard rail and attempted to fight their way down to the front of the stage.
After a short wait, the new (and improved?)
Morbid Angel,
with Tim Yeung filling in for Pete Sandoval on drums, came out to a rabid audience inside the Fox. They opened with "Rapture" and the place went nuts. Bodies flying across the crowd, dumb girls on the side of me throwing beer everywhere, the fog, the ominous lighting, Trey's otherworldly guitar work, David Vincent's cheesy stage banter, classic Morbid Angel in effect.
I want to say that Tim's presence behind the kit had a positive influence on the band, bringing some much needed firepower to their show but I read online that some felt he overplayed and ruined the tempo for some of their tunes so who really knows? After their third song, a supercharged version of "Maze of Torment" we booked it out of there and raced back to the Scion compound pleased to have witnessed the new Morbid Angel's first performance and hell bent on catching Birmingham England's lovable nihilists headline in tent #2 and consequently rape the entire fest.
Yes, I'm talking about
Anaal Nathrakh
. Black metal meets grindcore mixed with equal parts venom and hatred. The only band who could successfully make Morbid Angel look like The Monkees while playing 100 ft. away from them. The Anaal boys...er, Nathrakh dudes rarely play live since the "band" is normally a studio project between Irrumator (Mick Kenny, guitars/bass/drum programming) and V.I.T.R.I.O.L. (Dave Hunt, frightening screams/vocals) who enlist some of their buds to fill their ranks for the occasional live show or mini tour. That makes any Anaal Nathrakh gig a special occasion, that and they're fucking awesome too.
I missed the beginning of their set but found a spot near the side of the stage before they launched into "Submission is for the weak." The last time Anaal Nathrakh played in Southern California, it was for a
handful of drunks in the dilapidated ass Knitting Factory
. Thankfully, there was a good sized crowd inside the tent this time around and Anaal Nathrakh received the sweaty, violent (fun) welcome they deserved. The die hard fans shouted song requests at the band in between Dave's stage banter but most of the Integrity punks, recovering Municipal Waste thrashers and burly metal dudes turned away from Morbid Angel's over capacity Fox Theater performance just wanted the band to keep playing. Anything. They were eating this shit up. Some dude saw me recording videos of their set and excitedly asked me "what is this?!" It was awesome my friends. It was awesome.
In conclusion:
-The show ran like clockwork/on schedule which is RARE for metal gigs.
-My only real gripe was that there was too many good bands playing at the same. Yes, too much awesomeness was the only negative I could draw from this experience.
-Talked with the dudes from Wormrot, (dudette from) Fuck The Facts, Anaal Nathrakh, shook Dave Witte's (Municipal Waste) godly drumming hands and pestered Immolation while they ordered kabobs.
-The whole thing was FREE.
Thanks again to Scion for throwing the biggest party of the year.