Congrats to
Bonjour Tristesse
, for winning yesterday's
Take a Guess Challenge
. This shouldn't have come as a surprise, since Bonjour runs a blog dedicated to foreign and cult cinema, one I recommend everyone check out for all you cinematic needs. Kudos to
Yeamie Waffles
and the unstoppable
Pat Hatt
for guessing, just a tad too late though. So the answer to yesterday's question is:
Richard Linklater's 1995 film,
Before Sunrise
. Some movies entertain you, others might touch a nerve or make you really think.
Before Sunrise
does all these, but most importantly of all, it haunts you.
Before Sunrise
stands as one of the greatest romance stories of all time. The plot may seem a little cliche, boy meets girl on a train and they sweep each other of their feet, but Linklater's film has become a modern day cult classic because it breaks through most conventions of romance genre films (or any films for that matter) and creates an intoxicating sense of realism, inviting the audience into Jesse and Celine's exclusive little world, one that you'll never want to leave.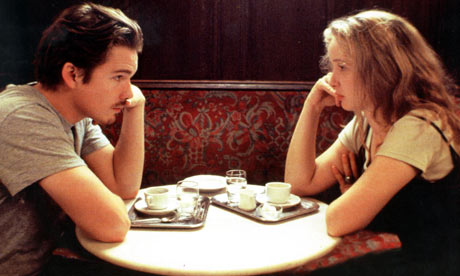 Très bien
The film centers around two young lovers who spend one magical day together on the streets of Vienna. Ethan Hawke is Jesse, a wondering American riding the rails across Europe before flying back home to the States. By chance, he encounters Julie Delpy's Celine, a beautiful young Frenchwoman on her way back to Paris. What follows is one of the most engaging and original tales of romance and life you'll ever see.
Jesse charms Celine into spending the day with him in Vienna. Fully aware that they both must return home eventually, Jesse and Celine entertain each other as a lark knowing that the hands of time have doomed any potential romance of theirs from the start. This
Cinderella
effect forces them to cut through the usual getting to know you type bullshit facade people usually project during first dates and you see the intense chemistry between the two is not only instant, but real, and they revel in it throughout the entire film.
I use the term real because at times,
Before Sunrise
feels more like a documentary than a regular movie. Linklater's script is genius. The dialogue, dear lord the dialogue. Kevin Smith, Tarantino they have nothing on this script. Not only do Jesse and Celine talk a mile a minute in this film, but thanks to Hawke and Delpy's amazing delivery it all sounds natural and again...real! Their performances are uncanny. Even when they aren't talking and just vibe off each other with little glances or gestures. I've never seen such chemistry between actors. Watching two people sitting in a streetcar, in a restaurant booth or park bench has never been so enthralling. Here is the scene that featured the song from the previous Take a Guess Challenge, Jesse and Celine in a record store listening booth:
Not a single word was spoken in that booth but their eyes and mannerisms said it all. Subtlety George Lucas, look it up.
The film takes place in the course of about twelve hours. It's called
Before Sunrise
for a reason. As soon as morning comes their fairytale must end. Linklater's 2004 film
Before Sunset
takes place nine years later and we see what's become of Jesse and Celine as they've grown into adulthood. It takes all the awesomeness of
Before Sunrise
to the next level, (dialogue, acting, camera work...
Sunset
even feels like it's playing out in real time) but that's a different post for a different day. If you've never seen
Before Sunrise
and my ranting has peeked your interest I'd urge you to check this film out for yourself ASAP. I'll guarantee you'd be fiending (yes FIEND) to see
Before Sunset
immediately afterward and never want to leave the pocket romantic European universe Jesse and Celine inhabit.