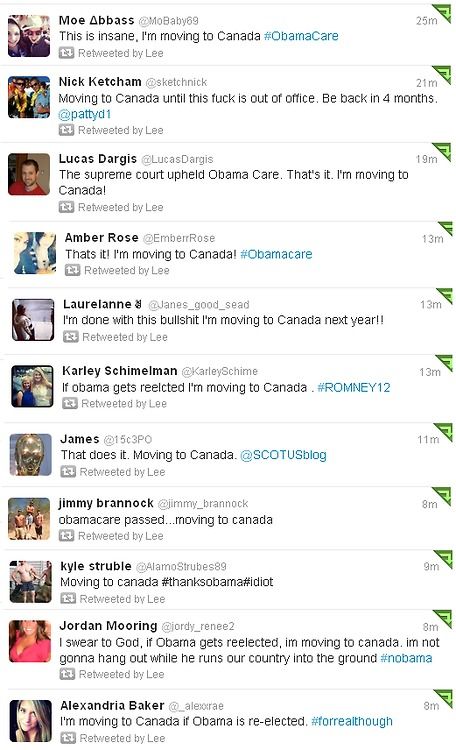 Abandon EARTH!
For those of you outside the USA, the Supreme Court just ruled that the Obama administration's Affordable Care Act (aka: Obamacare) is constitutional and apparently this ruling is the equivalent to one the four horsemen of the Apocalypse in right-wing political circles. The law would require a federal mandate for all citizens to purchase some form of health insurance (with tax rebates for those who can't afford it and expansion of state/federal assistance programs for the poor), granting the 30+ million uninsured Americans (who either can't afford coverage or don't qualify due to wonderful "pre-existing conditions") some form of safety net. This is hopefully the first of many steps meant to reform America's HORRIBLY BROKEN health care system.
I think this whole debate is a joke. Pretty much the rest of the modern world already has universal coverage and here we are trying to fight history/progress. It's like all of Earth has upgraded to broadband internet and us proud Americans disparately cling to our dial-up. Wake the fuck up. This Obamacare crap, which still panders to private (re: evil/corrupt) insurance companies is a half ass cop out. A band-aid on a bullet wound but hey, baby steps for the good ol' US of A right?
Political conservatives were outraged over the Supreme Court's decision. So outraged a number of them took to twitter and voiced their frustrations. These people were so disgusted by Obama and his socialist attack on their health care system, many of them threatened to move to Canada to escape his tyrannical rule once and for all. Move to Canada, to escape socialism. Canada...home of socialized health care.
That's the problem though. The discourse in this country is shattered. It's like trench warfare, WWI style. No side makes any progress and is content with shredding the other side to pieces. Nobody stops to think about how totally retarded the whole situation (including themselves!) have become.
In the wake of the decision, Republican's have directed their ire not at the wicked, Socialist/Kenyan/Muslim/Fascist/Communist/Democratically elected dictator aka President Obama, but at the turncoat "conservative" Chief Justice of the Supreme Court, John Roberts whose swing vote allowed the Affordable Care Act to survive. Robert's was appointed by G.W. Bush and was for all intents and purposes, supposed to be "their boy," but low and behold the man actually took the oath of office he swore seriously, looked beyond petty political and ideological preferences and did his fucking job, you know...interpreting the Constitution, and because of this, he's a sell out/public enemy #1 to American conservatives.
This shirt of Chief Justice Roberts is being sold on Glenn Beck's website.
Maybe we don't deserve this planet. I'm sure those polar bears swimming for dear life in the arctic would do a much better job running the show once we're gone. One can only hope...