Stacey Dash is easily one of the most beautiful creatures in the history of all creation. I find it almost impossible to believe that at 45 years old, she's been in showbiz longer than I've been alive! Part African/Mexican, Stacey's beauty defies all logic. She, Marisa Tomei and a select handful of other actresses have either traded their souls to Lucifer or found a legitimate fountain of youth somewhere because these women simply do not age and shall remain drop dead gorgeous for eternity.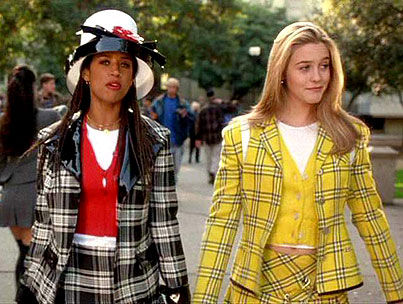 1995 represent!
So Stacey started acting as a teenager in the early 1980's doing a few small roles on television (check out her appearance on
The Cosby Show
HERE
) before graduating to films in her early twenties. She got her big break in 1995's teenage comedy classic,
Clueless
. Stacey played Cher's (Alicia Silverstone) best friend Dionne in the film and TV spin-off. Interesting fact, Stacey Dash is about ten years older than Silverstone and was almost 30 when the two starred as bubbly teeanagers! Yeah, it's kind of a chick movie and some of the humor is dated (kids using cell phones =lulz) but I still love this movie. Part nostalgia, part lulz, lots of Stacey Dash =p
(Whats up Paul Rudd? RIP Brittany Murphy)
Clueless
is really Stacey's biggest claim to fame. Her IMDb profile isn't exactly jumping with high profile projects (
Mo' Money
,
Renaissance Man
, etc) but damn if I care. I will literally watch anything she is associated with. That's how the inspiration for this latest edition of Female Obsession came about. It was late one night/early morning and I had just come back from work. I'm flipping through the channels on TV and see the lovely Stacey Dash on some VH1 show.
Single Ladies
is the show, and it's an urban (re: black) version of
Sex and City
taking place in Atlanta instead of NYC. I didn't watch the whole episode but was ecstatic that Stacey was back in my life. She's spent a good portion of the last 20 years being being a wife/mother (3 marriages, 6 engagements, 2 kids!) and hopefully this new project will give her the career boost she deserves.
Here's MOAR Stacey Dash being gorgeous:
I'll leave you with perhaps Stacey's second most well known role, as Kanye's girl in the "All Falls Down" video. Damn you TSA. DAMN YOU!
*Bonus Clip*
Smoking hot modeling shoot. Dash overload.
Stacey Dash Meets K+R
from
Creative Control
on
Vimeo
.