won't bring you down
There was a lot of of buzz before
Super 8
's release. The film's obtuse trailers and hype from the ADD driven media created a false sense of mystery about this flick. I don't know how this was possible for anyone with internet access or a functioning memory (Spielberg =
E.T.
/
Close Encounters
, Abrams =
Star Trek
), I mean really...who didn't know
Super 8
was going to be about aliens? Anyways, despite the force fed hype,
Super 8
is actually a damn good movie. Director J.J. Abrams does his best Steven Spielberg impersonation and creates a long lost 80's Amblin film that shames most over Hollywood dribble of the past two decades.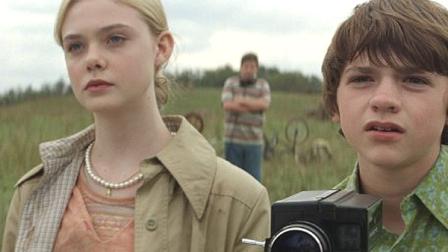 So
Super 8
centers on a bunch of geeky kids in a small Ohio town in 1979. They're trying to film their amateur zombie movie at the old train station one night when a military train carrying some gnarly cargo (a pissed off alien) derails behind them. Said cargo escapes and throws the entire town into chaos. Luckily, their super 8 mm camera was rolling during the big accident and now the gang's uber geekiness might be crucial in saving the day.
Kudos to Abrams for just about everything in this film. The cast (all the kid actors are aces and even the normally stiff parentals do a fair job), the dialogue ("Production value!") and the big FX scenes are all pretty rad...especially the gnarly train derailment. It really surprised me how multifaceted
Super 8
turned out to be. I don't want to ruin the plot for those of you who are even more late than I am and haven't see this movie yet, but this film has a lot more emotional depth than I was expecting. Yes, there are some hokey as hell
Goonies
-esque moments that kind of annoyed me, but the film has it's share of touching/somber moments as well. A lesser director might have screwed this mashing of sci-fi & drama up big time but Abrams is following from the MASTER's playbook here and I can imagine him literally saying, "what would Spielberg do?" and ended up totally nailing it. I love how the big bad alien remains hidden from sight throughout most of the film àla
Jaws
, it really builds up the suspense by letting the audiences imagination run wild. Also like
Jaws
, once we finally see the creature, it's a bit of a letdown because no CGI alien or robotic shark is scarier than our own psyches.
I think that's why I liked
Super 8
so much, for it's imagination (inb4 ripping off Spielberg is imaginative). This film hearkens back to a time when mainstream Hollywood releases didn't rely solely on explosions and 3D or Michael Bay to scam people of their money. When legit studio films actually entertained you without insulting your intelligence. Abrams has made a damn fine little film here and his tribute to
E.T.
's daddy proves that it's time for the real Slim Shady/Steven Spielberg to please stand up and reclaim Hollywood from mediocrity.
...but Spielberg produced Michael Bay's
Transformers
films. Aw fuck.
*BONUS
Super 8
also has quite a badass soundtrack. Totally in keeping with the late 70's. The Knack, Blondie, The Cars and ELO in the house. Here's ELO's "Don't Bring Me Down" because it's such a hard ass tune and has been stuck in my head ever since I left the theater.