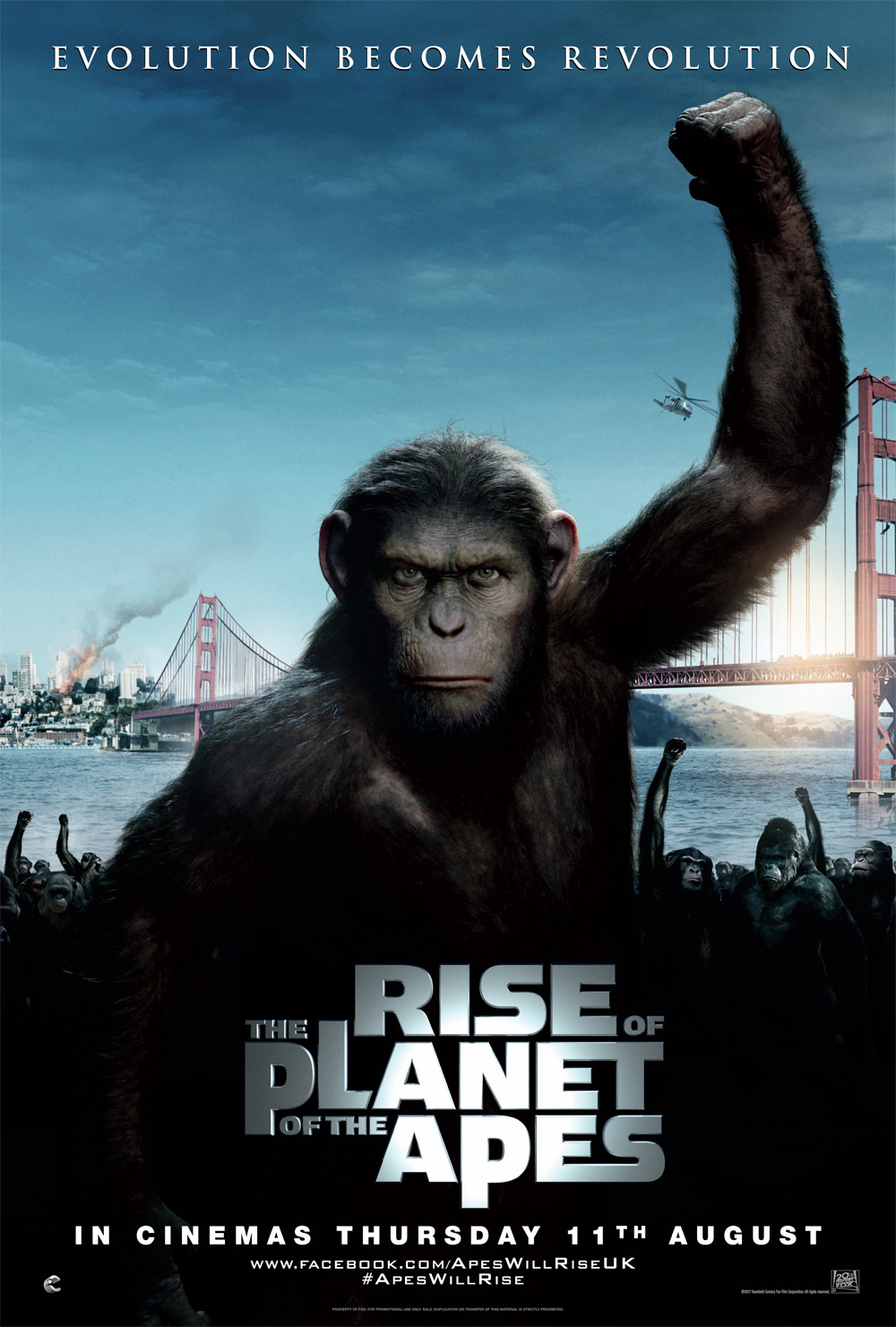 Film of the summer? Yes. Film of the year? Maybe....just maybe. I was shocked at how good this reboot/prequel/whatever of the original
Planet of the Apes
series turned out to be. Like "holy fuck, how is this movie about a smart-ass CGI chimp kicking so much ass?" Well it does. This film kicks all sorts of primate ass. There's action, human on human melodrama and one amazing performance from a computer generated ape that honestly carries the weight of the entire film.
For those of you who haven't seen the original 1968
Planet of the Apes
, lrn2Netflix. Really, it's a multi-generational classic that should be seen/appreciated by all.
Rise of the Planet of the Apes
does just what the title implies, revealing how a bunch of wild primates other throw humanity and wind up ruling the planet. James Franco plays Will Rodman, a preppy mad scientist who desperately seeks to cure his father's Alzheimer's disease. While testing an experimental drug on laboratory apes, Will inadvertently creates an uber genius chimpanzee named Caesar (played BRILLIANTLY by Andy Serkis) and is also kind of responsible for setting the stage for the ultimate downfall of human civilization as a whole, but hey...his intentions were good!
and the Oscar goes to...
They should have really just called this film,
Rise of the Ape
, because it's all about Caesar. Seriously. The rest of the cast is ok and yeah Freida Pinto is cute as hell, but Andy Serkis' performance as Caesar is simply out of this world. I haven't been this wet over CGI effects since Spielberg brought dinosaurs to life in
Jurassic Park
. Caesar undergoes a harrowing transformation in this film, from wide eyed lovable companion to a scarred and jaded revolutionary. At it's core
Rise of the Planet of the Apes
may just be an amped up summer popcorn flick but thanks to Serkis' performance it's really so much more than that. Also, it features all kinds of cool little tie-ins/homages to the original film (mounted cops on horseback chasing apes..iseewhatudidthere).
Rise of the Planet of the Apes
, my "holy crap" movie of the summer. Maybe of the year.