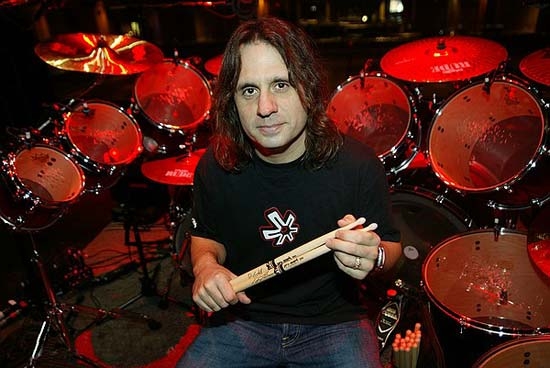 Still Reigning...
Dave Lombardo is a legend. Plain and simple. The undisputed king of thrash metal drumming, Lombardo has been flying behind the kit for over 30 years. His innovative playing style is to modern metal drumming what Eddie Van Halen is to guitar shredders. Lombardo is completely self taught and has played with a variety of acts, ranging from metal bands like Slayer and Testament, to Mike Patton's experiment in terror/mind-fuckery Fantomas and orchestral rockers Apocalyptica. One thing is for sure, no matter what he's playing, Dave Lombardo always brings his unmistakable grooves and serious need for speed to the table.
It's remarkable that this dude keeps getting better over time. If I'm HALF as mobile as that when I'm in my mid 40's it will be a miracle.
I don't remember the first time I heard Slayer but I do remember coming home from the store (The Wherehouse I believe) and spinning my very own copy of
Reign in Blood
for the first time. The album is short, about 28 mins in length which meant I gave it multiple spins that afternoon. Aside from loving Slayer's whole metal meets punk on steroids approach, I simply could not stop thinking about the drums. Every snare crack sounded like Dave was chopping wood. His ride cymbal echoed in my head for days. And then there's the double bass. I was already into Metallica and heard stuff from newer bands (at the time) like Slipknot who incorporated double bass drumming into their music but seriously, nothing prepared me for Dave Lombardo's playing with Slayer. This man single handily took this style of playing to a whole new level.
skip to the 4:00 min mark for Dave's uber famous "Angel of Death" double bass onslaught.
So while there may be faster drummers nowadays, no one plays as powerfully or is as downright cool as Dave Lombardo.
*NOTE*
My first concert ever was Slayer's H82K2 (hate 2002...gotta love the early millennium right?) and Lombardo's other great double bass solo during "At Dawn They Sleep" was so loud my ribs started shaking and I actually feared I might have a stroke/heart attack before the night was over. I'm not joking. Shit was awesome.