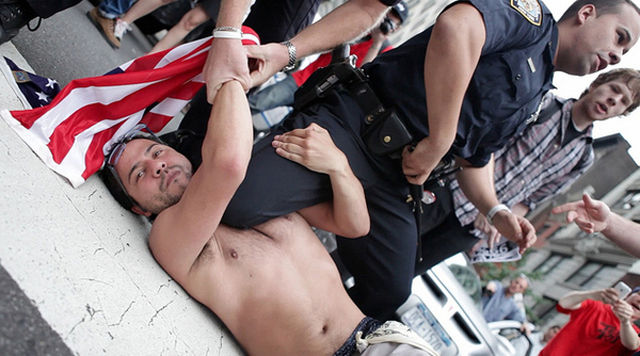 Serve and Protect...the banks.
Last February I dedicated a
Refused track to the rebels in Egypt
who were in the midst of revolution. Today I dedicate another Refused song to the #OCCUPYWALLSTREET movement. Despite what the intellectuals at Fox News and The Wall Street Journal would have you believe, this is a legitimate movement and not just a bunch of dirty hippies looking for trouble.
There are new protests taking place in different cities across the country. Yes it's unorganized. Yes their demands aren't crystal clear or 100% uniform but guess what, that's what happens when you're an entirely grassroots movement with truly diverse membership that allows everyone an equal voice in the proceedings. That, and they're operating on the fucking sidewalk/city park.
The #OCCUPY movement is still in it's infancy. Even if the protesters are violently snuffed out by the militarized police/gestapo units in their respective cities (which could happen) the seeds of change have already been planted. People > Corporate/Political Greed.
This is arguably my favorite Refused song. It still knocks me on my ass every time I hear it.
"They told me that the classics never go out of style, but they do, they do..."
Lyrics:
I got a bone to pick with capitalism and a few to break. Grab us by the throat and shake the life away. Human life is not commodity, figures, statistics or make believe. And yeah I like eating excrement and not getting paid for it. Play the guilt, play the fear and play the anxiety x2 Seduced by the opportunity and robbed of hope. Human suffering is not commodity, figures, statistics or make believe. Marginalise away the joy and sell us boredom. And yeah I like working doing nothing and not making anything. Blame the poor, blame the uneducated and blame the sick x2

I took the first bus out of Coca-Cola city cause it made me feel nauseous and shitty.I took the first bus out of Shell town cause they didn't want me hanging around. YEAH. YEAH. I took the first bus. Let's take the first bus out of here.